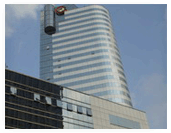 OKE engage in power transmission marketplace for many years. After our all staff struggled, OKE have obtained huge success ,won trust and reputation from customers.
OKE is specialized in suppling a variety of power transmission products for customer from all over the world.
such as: pulley,coupling,sprocket,gear,chain,taper bush,QD bush,weld on hub,bolt on hub,motor slide rail,motor base,clamping assemblies,torque limiter,bearing and special products comply with drawing. We adopt universal international standard. Over the years, Our products sell well at market home and abroad.For example: north american,europe,japan,southeast asia,the middle east,australia.The OKE brand is recognized by our customers.   
The key to OKE's continued growth and success lies in the dedication to our customers and offering high quality,excellent service,competitive price and fast delivery. our complete management system and inspection system make sure every orders are successfully completed. OKE's enthusiastic salesmen, professional engineer and skillful worker keep promise to our customers.
OKE pursue a policy of "Quality First, Service Superior" and set up "mutual benefit" . We look forward to cooperating with you from anywhere,and make a success together in future.
When you choose OKE, anything will be oke!

We are always ready for serving for you!
上海奥科亿机械有限公司,奥科亿从事传动件行业多年,经过全体团队不懈努力,奥科亿在该领域已取得巨大成就,获得客户信任与称赞。
奥科亿专注向客户提供传动领域各种产品:皮带轮,联轴器,链轮,齿轮,链条,锥套,QD套,钢套,法兰盘,电机导轨,电机底座,账套,扭力限制器,轴承以及根据客户图纸生产的非标产品。我们产品采用国际通用标准。多年来,我们的产品畅销世界各地,如:北美,欧洲,日本,东南亚,中东,澳洲等地区。一直以来获得客户长期认可。
奥科亿的持续增长,及成功关键在于对客户的专注奉献,在于我们能够提供高质量的产品,优异的服务,竞争力的价格,及快速的交货;我们有着一套完善的经营管理系统和质量检测系统,得以保证完成执行好客户的每个订单;我们拥有热情的销售人员,专业的技术人员,熟练的生产工人,使我们能够确保对客户的每个承诺。   
奥科亿追求"质量第一,服务至上"的理念,本着互利共赢的原则,与来自各方的客户一道,一起走向成功。
当你选择奥科亿,未来将无忧无虑!!
奥科亿的每一位成员都已时刻准备服务于您!